"Blessedness is knowing who God is, sharing the spirit that is so freely given and embracing the grace granted to us each daily by His love," represents the essence of her outgoing spirit.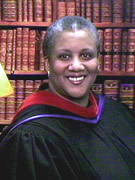 In July 2013, Dr. Jacqui King began a new season in ministry as the Associate Pastor of Jones Memorial United Methodist Church (UMC) in Houston, Texas. Her focus is Leadership and Ministry Development within this dynamic church located at Almeda-Genoa Road and Highway 288. This well-spoken preacher completed her Doctor of Ministry degree at Drew University with a focus on Global Leadership Development. She graduated in May 2012, and her dissertation is titled "Hear2Heal: Embrace a New Vision."
In May 2008, Pastor Jacqui King was ordained a Full Elder in the United Methodist Church by Bishop Janice Riggle Huie during an exciting Annual Conference held at The Woodlands UMC.
Prior to this appointment, she served as the Senior Pastor of First UMC in College Station, Texas, the Church Planter of Nu Faith Community UMC in Houston, Texas, and the Senior Pastor of St. Paul UMC in Port Arthur, Texas. Her leadership experience includes serving on the West District Board of Ministry, the Texas Annual Conference Core Leadership Team, the Annual Conference Worship Team, and multiple district committees. Also, she has provided significant training leadership for various District Leadership Events, Lay Speaking Schools, and the United Methodist Women's Annual Meetings.
She believes that education can create avenues for all to become empowered as well as we should seek to live into our callings from the Lord.
Mottoes:
(1) Find your lane and run your race – Love is an action word!
(2) I am worth taking care of and I will do something today to show it!
(3) The So Factor – Serve Others!