Rev. Jacqueline King is a resourceful professional with over 15 years of diversi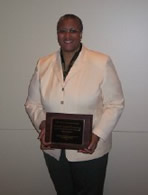 fied service in new ministry development, community-based educational programming, volunteer training, fund development and project management. She graduated in May 2004 from Perkins School of Theology at Southern Methodist University with a concentration in Urban Ministries. Her ministry leadership focus has been in ministries targeting family outreach, youth, confirmation, young adult / college and community awareness. As God prepared her for serving in the local church, she has enjoyed serving God as a vessel to help build ministry partnerships between churches, universities and ministry extension organizations, whose primary vision is sharing the good news of salvation and love in Jesus Christ.

2004 ACCOMPLISHMENTS
Rev. Jacqueline King is serving as Senior Pastor of St. Paul United Methodist Church in Port Arthur. The church experienced immediate membership growth of 10 persons, ministry expansion of three new ministries, replacement of the roof and launching of a website site within the first six months of her appointment. Coupled with this growth period, Pastor King met all her ministry leaders to develop a core strategy to help build upon a strong foundation of service to God's people in an urban community. Key accomplishment was she connected immediately with the congregational and community needs to expand ministry outreach.
Rev. Mark Young, Beaumont District Superintendent, recommended that Rev. King serve on various committees including, Apportionment Rally, East Texas Leadership School, District Board of Trustees, District Board of Missions and District Representative on the Commission on Small Membership Churches. In 2005, she presented a workshop at the Beaumont District Leadership Training Day and was selected as Co-Leader for District Camp for high school students. Also, in the Port Arthur community she serves on the Samaritan Board, supports clergy alliances and works together with both African-American Methodist denominations and local United Methodist Churches to increase opportunities for worship, fellowship and community building. Key accomplishments were offering monthly worship opportunities that invited denominational diversity, cross-cultural worship and praise experiences, while preaching and teaching biblical foundations utilizing lectionary tools. Being an advocate for education, she shared knowledge of scholarships with both students and parents within the community.
Pastor King is a hands-on pastor of a multi-generational church who expects God's grace to be present in every area of her life. She shares God's love and grace through a smile, a hug, a listening ear and a dynamic preaching style that offers hope to all persons. Her contagious smile coupled with loving support from her husband Donel King help her accomplish the things God is calling her to complete. Pastor King connects with the community through her preaching at St. Mary's Hospital, offering communion and prayers for the sick and shut-in members, and offering words of wisdom to area high school students. Key accomplishments include sharing great moments traveling with senior members, visiting her 100-year old active member, having free-form praise dance moments and just shouting thanksgiving praises about an awesome God.