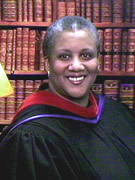 "Blessedness knows who God is, shares the spirit that is so freely given and embraces the grace granted to us each daily by His love," represents the essence of Dr. King's outgoing spirit.
In September 2015, another ministry chapter began with Discipleship Ministries where Dr. King is serving as the Director, Leadership for Congregational Vitality. This appointment allows Dr. King to develop leadership resources for local congregations, engage network groups in new processes that implement core strategies for increasing congregational vitality, design and promote online learning through webinars. Also, she serves on the design team for the School of Congregational Development.
In July 2013, Dr. Jacqui King began a new season in ministry as the Associate Pastor of Jones Memorial United Methodist Church (UMC) in Houston, Texas. Her focus was Leadership and Ministry Development within this dynamic congregation located at Almeda-Genoa Road and Highway 288. This well-spoken preacher completed her Doctor of Ministry degree at Drew University with a focus on Global Leadership Development. She graduated in May 2012, and her dissertation is titled "Hear2Heal: Embrace a New Vision."
Previously, she served as:
 Senior Pastor of First UMC in College Station, Texas
 Church Planter of Nu Faith Community UMC in Houston, Texas
 Senior Pastor of St. Paul UMC in Port Arthur, Texas
 Graduate Assistant for Dr. Evelyn Parker at Southern Methodist University in Dallas, TX
 Internship – College / Young Adult Pastor of Windsor Village UMC in Houston, TX
 Program Director of EPRUS AmeriCorps Program / Shalom Zone Ministries in Houston,      TX
In May 2008, Pastor Jacqui King was ordained a Full Elder in the United Methodist Church by Bishop Janice Riggle Huie during an exciting Annual Conference held at The Woodlands UMC. Her leadership experience included serving on the West District Board of Ministry, the Texas Annual Conference Core Leadership Team, the Annual Conference Worship Team, and multiple district committees. Also, she has provided significant training leadership for various District Leadership Events, ACTIVATE with Houston Chapter of BMCR, National Speaker for BMCR, Partner Congregation with Strengthening the Black Church (SBC21), Lay Speaking Schools, and the United Methodist Women's Annual Meetings.
EDUCATION
Doctor of Ministry (D.Min.), Global Leadership, Drew University – Madison, New Jersey, 2012.
Hear2Heal: Embrace a New Vision
Master of Divinity (M.Div.) / Urban Ministries Certification, Southern Methodist University – Perkins School of Theology.
Certification in Fund Raising Management (CFRM), The Fund Raising School – Indiana University School of Philanthropy, Indianapolis, Indiana.
Master of Business Administration (MBA), Concentration in Marketing and Management Information Systems, The Pennsylvania State University, University Park, Pennsylvania.
Bachelor of Science (BS), Concentration in Marketing and Retail Sales Management, Philadelphia University (formerly The Philadelphia College of Textiles and Science), Philadelphia, Pennsylvania.
Dr. King is married to Donel King. Their extended family includes young adult sons, daughters-in-laws, and grandchildren along with siblings, parents, nephews, nieces, and cousins.
She believes that education can create avenues for all to become empowered as well as we should seek to live into our callings from the Lord. Mottos:
(1) Find your lane and run your race – Love is an action word!
(2) I am worth taking care of and I will do something today to show it!
(3) The So Factor – Serve Others!
Bio for Rev. Dr. Jacqui Thomas King
Director, Leadership for Congregational Vitality
Discipleship Ministries, The United Methodist Church