Lay Servants Academy Planning Reunion and Summer Small Groups
5/8/2014
Ben Franklin once said, "When you're finished changing, you're finished." Changing with regard to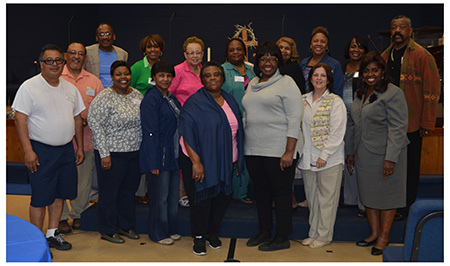 lifelong learning is such a strong value at Jones Memorial UMC in Houston that a group of laity helped create and promote a first-ever Lay Servants Academy this April, complete with a Lay Servant certification at the conclusion of the workshop.
"This training activity was a great undertaking in that it provided yet another way for us to answer God's call to serve," says Lonnie Hall, from the planning team. "It was very hard but rewarding work with the support our Senior Pastor Kenneth Levingston, our Associate Pastor Dr. Jacqui King (who also served as our pastoral planner and instructor), and from our Administrative Council Chair David Taylor."
This academy provided instructional leadership from both clergy and laity. With church leaders, members, and laity from 15 congregations, the sessions focused on increasing their abilities to reach people in our communities for Jesus Christ. Dr. King applauds and readily supports leadership training of all sorts. Sessions at the event covered four areas of Lay Servant Ministries:
1. Basic Lay Servant Ministries
2. Leading in Prayer
3. Living Our Beliefs/The United Methodist Way
4. Transforming Evangelism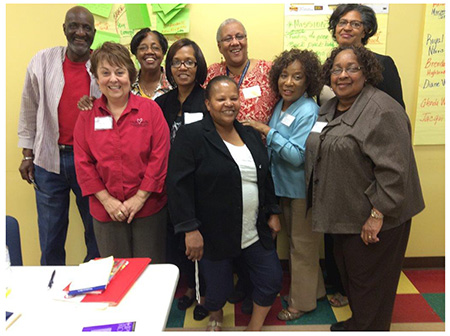 Lay team member Angela Williams says, "This endeavor was a tribute to the power of teamwork and allowing the Lord to use you– to God be the glory!" She served as event registrar and budget coordinator, and ensured all participants had their books for class. Adds Angela, "I was also part of the initial conversation with David Taylor concerning having the Lay Servant Academy at Jones MUMC. He and I both attended the Lay Servant Academy held in October 2013 in West Columbia and we loved the discussions on the word of God, fellowship with others, and knowledge exchange. "

 Next Steps
The Lay Servants Academy sessions gave laity new ways to connect with clergy and pray about the needs of their community. Out of this experience, Jones Memorial UMC is launching small groups for July-August. To move forward Jones members will have a follow up reunion in May to provide ways for the 40+ participants from Jones to connect with targeted mission and small group opportunities starting in July. Anyone interested in joining a group can check www.joneshigherwayumc.com or contact Dr. King at pastorj@joneshigherwayumc.com.
One of the small group offerings in the July-August time frame, for example, will be a study of Mike Slaughter's book, Dare to Dream, which helps connect people to their personal mission. Leaders will start up fall groups for October and November and another launch of groups in 2015 that will meet in January and February.
Adds Dr. King, "We are blessed to provide training opportunities and experiences to equip disciples of Jesus Christ to realize and respond to their personal call to ministry," she says. Equipping laity is the first step of the journey. Then, empowering laity helps to move the church from creating ministry ideas into experiencing life-transforming evangelism! "
Attendee Debra Russell, of HOPE Church of Pearland adds, "The Transforming Evangelism" Advanced Class was extremely inspirational. I enjoyed listening to everyone's faith story and sharing my own faith story. I believe we all were energized by Dr. King's passion for evangelism. I gained many evangelistic techniques and wonderful ideas to share with my church Outreach Ministry."